Yoga has exploded in popularity over the past decade, with millions of people flocking to studios and unrolling their mats at home to practice postures and breathwork. As the yoga community continues to grow, so does the demand for comfortable and supportive yoga apparel.
For many yogis, finding the perfect yoga underwear is just as important as having the right yoga mat or leggings. The underwear you choose can make or break your practice when it comes to comfort, coverage, and confidence.
Why Yoga Underwear Matters
Yoga requires moving through a wide range of postures and positions—from simple standing poses to intense hip openers and inversions. You need underwear that can keep up with your practice and provide seamless support through every fold, stretch, and transition.
The wrong underwear can ride up, cause chafing, or expose too much during compromising poses.
Additionally, hot yoga in particular causes excess sweating and requires underwear that wicks moisture to keep you cool and dry.
Yoga underwear is designed with special features and fabrics to provide maximum comfort and confidence during your practice. Choosing underwear that fits your body type and yoga style will enable you to move through your practice without distraction or adjustment.
Factors to Consider When Choosing Yoga Underwear
1. Fabric
The fabric of your yoga underwear matters for both comfort and function. Look for fabrics that are:
Moisture-wicking – to keep you cool and dry throughout sweaty practices
Breathable – to allow airflow to your skin and prevent overheating
Stretchy – to move with you through all poses without restriction
Quick-drying – to minimize dampness after hot yoga or intense practices
Soft – to avoid irritation or chafing as you move
Performance fabrics like nylon, polyester, and elastin provide moisture management while maintaining shape and compression. Organic fibers like cotton are lightweight and breathable but take longer to dry. Blends marry the best qualities of various fabrics.
2. Fit
Finding the right fit is crucial for full coverage and comfort. Consider:
Waist – choose mid or high-rise styles to avoid exposure during folding or inversion
Legs – short, midi or full coverage depending on your leggings preferences
Cut – from minimal thongs to full coverage briefs and boyshorts
Measure your hips and waist instead of guessing your size for the best fit. Underwear that fits too loose can bundle and ride up, while too tight creates discomfort.
3. Style
Yoga underwear comes in a wide variety of styles to suit different body types and levels of coverage:
Briefs – offer full coverage in the front and back
Boyshorts – provide a bit more coverage on the legs than traditional briefs
Hipsters – sit lower on the hips for a leg-lengthening effect
Thongs – minimal rear coverage ideal for tight yoga pants
Bikinis – medium coverage front with minimal back
Seamless – lie smooth under yoga leggings without visible panty lines
High-waisted – hit at or above the navel for added coverage
The Best Yoga Underwear for Women
Here are some of the top-rated and best-selling yoga underwear options for women:
1. Under Armour Pure Stretch Bikini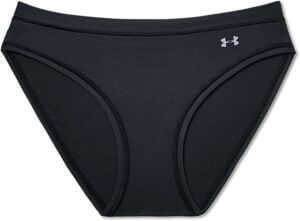 These moisture-wicking bikini briefs are made of ultra-soft yet durable elastane fabric with just enough stretch. The wide waistband and seamless edges provide a super smooth fit to prevent rubbing or chafing during your practice.
2. Lululemon Namastay Put Thong
A yoga staple brand, Lululemon designs thongs with a seamless microfiber construction that are guaranteed not to show through white workout leggings. They come in both mid-rise and high-rise styles.
3. Athleta Ultimate Bikini Underwear
The seamless construction moves with you like a second skin. These breathable nylon-spandex bikinis wick sweat and have an ultra-soft, bonded waistband that stays flat and invisible under tights.
4. Yogipace Hipster Briefs
These hipsters offer fuller coverage in an organic cotton blend that's breathable, moisture-wicking, and quick-drying. The wide waist and tagless design prevent pinching or irritation during your practice.
5. Pinks Breathe Thongs
Made of a lightweight nylon-Lycra blend, these barely-there thongs feature a seamless low rise fit perfect for hiding under tight yoga pants. The no-slip grip lining and stretchy elastic provide added comfort.
6. Calvin Klein Modern Cotton Boyshorts
A soft, stretchy cotton blend ensures these classic boyshorts move with you through every pose. The thicker sides stay put to prevent riding up or twisting during downward dog.
The Best Yoga Underwear for Men
Men also have options when it comes to supportive and stable workout underwear:
1. Lululemon License to Train Boxer Brief
Designed for yoga and endurance exercise, these boxer briefs have seamless edges to lie flat under clothes. The fast-drying polyester and Lycra fabric wicks sweat during intense practice.
2. Saxx Kinetic Long Leg Boxer Briefs
Longer legs add extra coverage and thigh support in these moisture-wicking boxer briefs crafted from breathable bamboo viscose. The unique side panels prevent chafing or riding up.
3. Adidas Climalite Boxer Briefs
Made from quick-dry Climalite fabric, these boxer briefs have an extra wide waistband that stays in place as you move. Strategic ventilation and seamless construction provide chafe-free support.
4. Hanes X-Temp Performance Boxer Briefs
The X-Temp cooling fabric adapts to your temperature for moisture management and breathability. The tag-free waist and extended leg length offer increased coverage and comfort.
5. Under Armour Original Boxerjock
Smooth anti-odor fabric wicks sweat while the articulated mesh fly panel lets you stay ventilated. The supportive compression waistband conforms without squeezing.
6. MeUndies Boxer Brief
Available in fun prints as well as solids, these soft modal-blend boxer briefs stretch four ways for unrestricted mobility. The flyless design has a reinforced pouch for extra support.
Tips for Finding the Perfect Pair of Yoga Underwear
Try different cuts to find the right balance of coverage and freedom of movement for your body. Higher waistbands typically provide more coverage and support.
Look for underwear made with performance fabrics like polyester, nylon, lycra-spandex blends that offer moisture-wicking properties, stretch, and shape retention.
Match Black underwear is ideal for dark-colored leggings to remain discreet. Lighter shades like nude or gray can prevent show-through with light pants.
Shop brands designed specifically for activewear and yoga that cater to fit, function, and comfort during movement.
Wash before you wear to maximize the lifespan of performance fabrics that can degrade over time with washing.
Try seamless styles if you don't want visible panty lines or tags rubbing against your skin.
Size up if between sizes for a comfortable fit – underwear that is too tight can cause discomfort.
Conclusion
Finding the perfect yoga underwear that offers both comfort and coverage comes down to choosing the right fabric, fit and style for your needs. Performance fabrics like nylon-spandex blends combined with a stay-put waistband and seamless design can ensure your yoga underwear moves with you through practice. Whether you prefer more coverage in briefs or boyshorts or the discretion of a seamless thong, brands like Under Armour, Lululemon and Calvin Klein offer high-quality options purpose-built for yoga. Investing in the ideal pair of yoga underwear can provide the confidence and freedom to move through your practice without worry about slips or discomfort. Focus on your breath and postures knowing your underwear has you covered through even the sweatiest upside down pose.